About
Floor Finishers Plus is the preferred floor contractor when the job needs to be done right.

With over 30 years of experience and various awards including A+ rating with the BBB as well as voted Baltimore's best by the Baltimore magazine Our goal is to make the customers happy.   
We service all of Maryland we are bonded and insured our MHIC # 109268.
I feel communication is very important that is why my clients can call at any time 24/7.
Floor Finishers Plus is your premier destination for exquisite flooring solutions! We are a leading provider of high-quality, luxurious flooring options, specializing in hardwood, laminate, vinyl, and tile flooring. With a commitment to exceptional customer service, and superior craftsmanship, we are dedicated to transforming your space into a stunning masterpiece.
Over 30 years of experience.
Fully licensed and certified flooring contractors.
20-year member of the National Wood Flooring Association.
Affordable pricing and expert service.
Vinyl Plank
Vinyl Plank offers an affordable, durable, waterproof, and realistic looking flooring option. The quality and popularity of these products has increased tremendously making them a stylish option for any home. Choices include Luxury Vinyl Plank (LVP), Luxury Vinyl Cork (LVC), Stone Plastic Composite (SPC) and Wood Plastic Composite (WPC), each with their own unique qualities. Hardwood Floor Specialists carries an extensive line. In addition to the brands listed we carry the full line of Garrison Luxury Vinyl, Tecsun, Lions, Rainbow and more.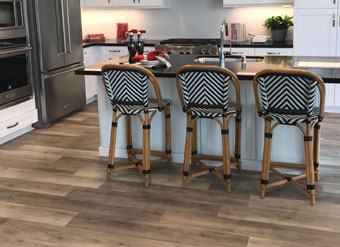 What Our Customers Are Saying…

Floor Finishers Plus refinished our hardwood floors throughout the house. The floors were in dire need of refinishing. They were on time to start the job and actually completed the job ahead of schedule. They were very polite and professional throughout the process keeping us informed as to where they were during each task. The quality of work was exceptional. They cleaned up everything that was exposed to the sanding process. The cost of the entire job was very reasonable. I would recommend this contractor to anyone in need of floor restoration. Thanks again for a great job!!! Adele and Gary
Prompt and professional. Very pleased! Highly recommended and can't wait to use again.
Started out not even knowing what we needed. Made a phone call to Mark and he was able to guide us in the right direction. He recommended to not replace all the floors but instead sand and refinish the bedrooms and install new flooring in the living room. Was assuring to know they were not just seeing dollar signs with my questions but instead wanted to provide the best service with options. The crew was on time and communicated through every step of the way! Highly recommend.
Very professional this has been my second time I've used their service.